Do you have a lawn care business for sale, and are looking for ways to get the most money? Or are you buying a lawn service as an investment? Either way, here are several strategies you can employ to both speed up the sales process and receive or save top dollar as well. After all, you've worked hard to build up your business over the years, and you don't want to leave money on the table. You may be planning to live on the proceeds as your retirement nest egg and want the best outcome possible. So, to help you get the most for your company, let's look at several keys points you need to remember.
Important Points in Buying or Selling a Landscaping Company
Customers for your lawn care business for sale
When you have a lawn care business for sale, it is important to remember who is probably interested. Most of the time you will be selling to one of your competitors or perhaps someone looking to enter the lawn care industry for the first time, or some looking to invest in a lawn care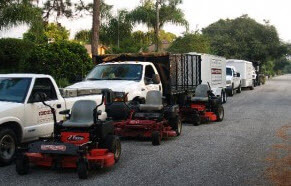 franchise. There are several things you can do to make your business more valuable in their eyes, which will increase your bottom line when it comes time to sell. At the top of the list is having a valuation performed by a professional firm, to get an objective idea of what your business is really worth. It can be difficult for an owner to accurately gauge this figure, as you are probably emotionally invested in your company.
Also, this type of service is valuable in other ways as well, as it will highlight areas of strength and those which need improvement, such as your lawn care advertising. Knowing about potential problems before you enter into sales negotiations can give you a chance to correct them beforehand. This will increase your sale price in the end, and so is well worth the time and effort involved. In fact, most experts agree that you should start this process at least a year before you consider selling your business. So, before placing your landscaping business for sale on the open market, ordering a valuation is an excellent idea.
Secondly, you know that in lawn service your customer base is your lifeblood. To enhance the profitability of your enterprise before selling, consider some strategies to keep your customer's loyal. Losing customers when the business changes hands can be a buyer's primary concern, so taking steps to avoid this will help put their mind at ease. How can you ensure your customers remain after you leave? Consider signing up your best customers on annual contracts, or you can even put long term discounts in place. For example, if clients use your service exclusively for one year, then they get a 10 percent discount off their total bill. This type of approach can make your company more valuable in buyer's eyes, and when you have a lawn care service for sale this is your biggest goal.
Look at the Company Books on your Lawn Business
The third method is an important one as well and involves taking an in-depth look at your books. This will have to happen anyway when the sales process takes place, so preparing in advance is a wise decision. This will keep unpleasant surprises from being discovered later at an inconvenient point in the process. How far back should you go? Most buyers will examine at least the last three years of financial records. What do these include? Your tax returns are essential, and often your billing and expense accounts and statements will be reviewed as well. If these are not well organized, it is worth the expense to hire an accountant to do so. This will give your potential buyers a good impression and tell them you run a tight ship. Keeping good records is key to having a positive outcome when selling your landscaping business on the market in today's economy.
This fourth strategy may be one you haven't considered, yet it is quite common in landscape companies. Often these are smaller operations, and you may only employ one or two people. You might have overlooked how essential you are to the business, and without you in the picture your company could be far less valuable. If you plan to offer your lawn care business for sale, this is something you might consider solving. Why is this important? Doing so will make you attractive to buyers who want to purchase your business but aren't interested in running it themselves. If you have a strong manager in place already, then they can simply invest the money and leave the day to day operations in their hands. So, you may think about hiring a manager and giving them time to learn how to run the business smoothly before you decide to sell.
So, when thinking about placing your lawn company on the market today, implementing these strategies can make a big difference. All of these methods will make your company worth more to potential buyers, and you can expect to get a better price in the end for your efforts. If you make use of these simple tools, you can be well on your way to getting more for your company then you ever dreamed. So, why not begin employing them today, and see a positive result when offering your lawn care business for sale in the near future? Financing is often available through the SBA if you are interested in a lawn care business for sale.
Buying a Landscape Business
If you are actively searching to buy a lawn care business for sale, there are important considerations to review and consider before making this important purchase. Buying a lawn business instead of starting from scratch is a wise decision. Most new business owners lack the financial ability to wait long lengths to see potential profit, find employees, invest in new equipment and implement marketing and advertising before gaining customers and revenue. By purchasing an already established lawn care and mowing service, you will have everything you need already in place, in addition to an income stream.
However, before you consider purchasing a landscaping business, you need to be prepared to avoid a costly, catastrophic investment mistake. Though any purchase in life carries some element of risk, you can reduce the likelihood of potential risks by having an organized list of details laid out in advance. These points to consider, prior to purchasing a business, are as follows:
Why Is the Previous Owner Selling This Mowing Business?
Perhaps the most important question to ask before anything else is why the owner is selling. Of course, people can lie about their reasoning, but this is a good starting point to look for any potential red flags. Don't take answers at face value but, instead, ask for details. If the owner states they are moving, ask when and where, as an example. If financial troubles are mentioned, take this as a warning that you, most likely, will encounter monetary worries, too. Just remember that there are limited valid reasons why someone would sell a thriving, financially secure company. Be sure the seller's reasons for selling are convincing and detailed.
Check Out Any New Landscaping Competition
Sometimes a seller decides to unload a business because they are being squeezed out by new competition. Do your research in the area this lawn company is currently operating in. Check franchises online, phone books, newspaper advertisements and flyers in area stores to see if there are new lawn mowing companies establishing a presence in your territory.
Investigate The Reputation and Reviews of the Lawn Care Service
A simple check of the Better Business Bureau can speak volumes about the reputation of the business you are considering purchasing. In addition, when reviewing company records, look for things such as customer longevity and repeat customers rather than sporadic, one time lawn service treatments. Customers who stay with one company for a long duration or continually call a business when in need of lawn care are a good sign that this business has earned their trust.
Review Landscape Employee Turnover
Another important factor to consider is where employees are concerned. Though employees will come and go in any business, it is a very good sign when a worker has stayed with a company for years. A well managed, successful lawn care business for sale will have long time workers who remained part of the team because it was financially secure and/or managed well. Continual staff turnover can be a warning sign that the company couldn't offer the wages necessary or there was mismanagement that resulted in employee loss.
Be Sure There Is A Clear Inventory Of What Lawn or Landscaping Equipment You Will Receive with Purchase of the Company
Make sure in advance that you know what you need to operate a successful lawn care business. Aside from basic lawn care equipment, mowers and the like, you will need vehicles, trailers and a storage space to house it all. As for the office work, you will need computers, files, copier, fax and furnishings. Make your own list of items needed prior to meeting with the seller, then go down the entire list to be sure you are getting everything necessary to operate your new business. Have every item put in writing in the final agreement, should you buy this business.
Know The Value And Condition Of Each Piece Of Lawn and Landscaping Equipment
When a detailed list of inventory is agreed to, the next step is in determining the value of each item. The seller should disclose any broken or malfunctioning equipment in advance. In addition, you should be able to view any past repair expenses on the products. Once you feel comfortable with knowing the condition of each inventory item, begin retrieving the current value of these goods, based on their condition. When completed, this should give you an accurate view of the value of the assets you are receiving, which plays a big role in determining how much to pay for this business.
Have Seller Disclose Any Potential Lawn Service Financial Losses
Though there are no guarantees that employees or customers will stay when you take over a business, it is wise to ask the seller to disclose any known potential changes you should expect. If the seller is aware that 25% of customers are planning to change lawn care companies once the sale takes place, that would be an important consideration. In addition, if a large percentage of employees have verbalized the intent to quit once new management is in place, that is very relevant, too. Nothing hurts a business more than not having the staff necessary to carry out customer needs. When you first take over a business, there will be a learning curve so you need to reduce the risk of surprise as much as possible. As a side note, you should expect to lose a few customers during this transition, which is quite common.
Good Business Records And Profit
Though when purchasing a lawn business, most buyers are anxious to view the records and see the bottom line, this time-consuming part should really be one of the last things you look at. All of the other points above will lead you to determining if you are interested in pursuing purchasing this business or not. If everything points to this being a good investment, passing all of the other tests above, now is the time to carefully scrutinize business records. They should be very detailed, you should analyze not only profits but trends, recurrent expenses, salaries, ability to keep on a budget in addition to many years of tax records. If records are messy or inconsistent, even if the buyer passed with flying colors on the other points, this should be considered another red flag.
Buying a landscape business can be the best investment for your financial future. Even in tough economic times, lawn care is something most households aren't willing to tighten their budgets on, considering it a necessary expense. But when shopping for a business to buy, be extremely careful and follow the guidelines presented here. In addition, be sure to have professional, legal guidance assist you when signing any final paperwork. Follow these tips when evaluating any lawn care business for sale.