Have you seen the ad of the lawn business owner on the zero turn mower chasing a car through the suburbs, and the husband asks the wife "Did you forget to pay the lawn guy?"
Late Payments Can Kill Your Business
If you have ever run a small business, you know about waiting by the mailbox for checks.
Late Paying Clients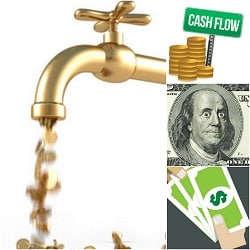 Lots of clients pay late, that's why understanding the risks of cash flow is important. You can help alleviate that by using services like Square. Instead of wondering where the checks are, if a customer is late, just get them to pay you on the spot. Another good idea is setting up a PayPal pay link on your website. Yes, it costs a few percent, but a few percent won't cost you your landscaping business. Waiting on checks before you pay your employees or lawn equipment loan could.
Lawn Service is More Than Knowing How to Do the Work
Business owners can often start a business because they think that they can either do a better job than their current boss or think that they can earn better money…Often the businesses will struggle even if it is getting a lot of jobs. This is especially true if you do landscape installation. You can have thousands of dollars of plants and irrigation parts "in the ground" and the builder is not paying on time. Believe me, I've been there.
It Gets Harder When You Have Employees
It be a struggle to keep your landscape business afloat, especially if you are a one man band! As you can imagine, there is seldom time for everything and often you can spend a lot of it chasing your tail, putting out fires and managing problematic lawn customers. Maybe you could only just squeeze in a small amount of work before realizing that the momentum has dropped off and you have to nearly start again. All the while you are up at 11.30 at night trying to reconcile bank accounts, equipment costs, pay wages, etc.
Research Your Client Before Taking on a Big Job
Before you know it you have no connection with the cash flow of the business and start to realize that when the bills are coming in, there is less cash in the bank or you are drawing on more savings or worse still increasing the credit card! That is why you need to talk to some other sub-contractors when looking for builders to work for. I've seen more than one landscaper go out of business by a client not paying their bill on time. If you are on a payment time table as in draws upon completion, think hard about continuing if the client misses a draw.