Foursquare is an app for smartphones and android phones that allows people to check in when they visit certain local businesses.
Although most know about LinkedIn, many business owners haven't yet to hear about lawn care marketing ideas using Foursquare, while others have been on it since it launched back in 2009.
But if you haven't yet heard about it, how do you even start to use it? And if you're already using Foursquare for your business, are you using it as effectively as possible to promote your business and get more customers? Do you know how to do that?
If not, there's no need to worry. This guide will tell you all about Foursquare, how to set yourself upon it, and how to use it to promote your lawn care business. And, if you're inadvertently making mistakes on Foursquare (there are a few of them) this guide will tell you what you're doing wrong and how to fix it.
So go ahead and get started!
Within you'll find what you need before you begin, and all the information you need to utilize Foursquare to its utmost potential, and start getting more customers from this one little app.
Foursquare Marketing for a Landscaping Service

The two biggest factors that are holding small business owners back from using Foursquare are:
 That they don't even know about it.
 They think that it's an app to be used by customers only.
For this latter obstacle, it is sort of true. Foursquare is an app for smartphones and android phones that allows customers to "check in" when they have reached a certain location.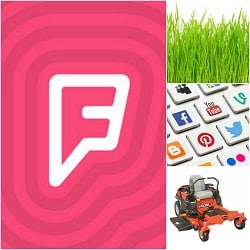 So if you're the owner of Bobs Landscaping, you can add your location to Foursquare and then when customers come to see you at your store, they can check in that they are there. This spreads the word about your business and, could even bring more people in through the door.
If you don't know about Foursquare and your lawn business isn't on it, you're losing all of those potential profits.
The second biggest problem that small landscape business owners face when considering using Foursquare for their business is that they think it's for customers only.
This is partially true, as it will be mostly customers that will be checking in when they arrive at your business.
But when you think about it, the product or service you're selling is also mainly for the customer; yet it's still something that has a huge benefit for you because that's how you make your profits. The same is somewhat true for Foursquare.
Even though customers will be the main ones to use it – they're definitely not the only ones. There are tons of ways that you can use Foursquare for your business, and you can even check into your own business every day, thereby once again telling people where you are and spreading the word about your business.
So, now that you know what Foursquare is and why you need it for your business, how do you use it? And what do you need before you get started?
All of that will be covered in the upcoming sections.
Getting Started
To begin using Foursquare you only need a few things.
You will need:
A smartphone or an Android phone
The Foursquare app
A Twitter or Facebook account.
First, your smartphone and Android phones will be your link to Foursquare, and so you need to know how to get the app on your phone.
Below are the three most common types of phones, with the corresponding links and instructions for downloading the app.
For the BlackBerry (Really? You still got a Blackberry?)

You can visit the App World right from your phone, search for Foursquare, and then download it onto your phone. If you don't want to download it from your phone, either because your phone isn't handy at the moment or because you simply prefer downloading straight from the Internet, you can visit the App World and use the link to download the app here: https://appworld.blackberry.com/webstore/content/6921/.
For the iPhone, iPod, or iPad
Downloading the app for your Apple device is just like downloading it for the BlackBerry, except that you'll be using a different link. Again, either just open up the App Store on your device, search for it and download it; or visit this link: https://www.apple.com/ca/iphone/from-the-app-store/ to do so.
For the Nokia (Really? You got a Nokia?)

Downloading the app on your Nokia is a bit more complicated than downloading it for either the BlackBerry or Apple devices, only because you first need to make sure that the app is compatible with the type of phone you have.
Luckily, checking your compatibility is easy. Visit the Nokia website here: https://store.ovi.com/content/56750 and click on "Nokia phone selector." The website will pull up a list of the phones they offer, and all you have to do is click on the model of phone you have. Once you do and find out that your phone is compatible, the website will give you step-by-step instructions for downloading the app to your phone.
For an Android phone:
Even though there is no one website or App Store that you can visit to download Foursquare for your phone, you can still access it. Visit the Google Play website here: https://play.google.com/store/apps/details?id=com.joelapenna.foursquared&hl=en and it will pull up what devices you have, as well as give you instructions on how to download it.
So now you've gotten the app on your phone – that's just the start. Now what are you supposed to do to use it as a marketing tool?
How to Use Foursquare for Lawn Business Marketing
Using Foursquare isn't difficult, and setting up your page will take mere minutes.
Maintaining and managing it yourself on the other hand, is something else altogether.
And, there is more to Foursquare than just setting up a page.
This section of the guide will walk you through, step by step, how to set up Foursquare for your business, and how to manage and maintain it so that you can use it most effectively and efficiently for marketing your business.
Creating a Page on Foursquare
Before you create your page on Foursquare, you must first to see if it's already listed. Someone could have already visited your business and added it to let other people know that they are there. To look for your business check the Foursquare link here: https://foursquare.com/search.
If you find your business is listed already, you can't just leave it; you have to then claim it.
To claim your business on Foursquare, you need to go to yet another Internet address: https://foursquare.com/business. Once you get to the "Foursquare For Business" page, you need to click on "Business Tools", then clink the "Claim" icon at the top.
This will lead you to another page that will ask for specific information to verify that you are the manager or the owner of the business, and that you are authorized to claim the page.
After you've claimed the page as your own, you can just start using it to boost your business. You will not have to worry about adding the page yourself; but you will need to learn to utilize it to best profit your business. That will be covered in a separate section.
If your business hasn't yet been added, you'll need to create your page. And to do that, you'll first need to sign up for an account.
To sign up for Foursquare visit: https://foursquare.com/signup/join. Here you'll be asked some very basic information, and you'll be asked to supply a profile photo. The photo is not a requirement, but considering that everything online is so visual today, it's only good business sense to include one.
Once you've searched for your business and signed up for Foursquare, you then need to create a page for your business on Foursquare (if one is not already on there.) Then you'll need to choose whether you want to decide if you want to connect to Foursquare through Facebook or Twitter.
If you don't have either account, signing up for those is especially easy (and there are whole other worlds of marketing ideas for these sites as well.) To sign up for either visit www.twitter.com or www.facebook.com. All you'll need for either is some very basic information, and it will take just a few minutes before you're all signed up and ready to go – on Foursquare that is.
Once you're all signed up on Foursquare, either through Facebook or Twitter, you're ready to continue on with creating your Foursquare page.
Once you've chosen how you want to sign into Foursquare (Twitter or Facebook) you'll be automatically redirected to the "Page Settings" page, where you can complete your page. This will involve uploading a picture that will be your profile picture to be used on Foursquare.
You can also include any banner images that you can use to promote your business, along with a description of your business and any links that will lead visitors to your other locations.
The last thing you'll need to do in the "Page Settings" page is link the Foursquare account to your Facebook account. This is different than signing in with Facebook, because this step will post anything you post on Foursquare to your Facebook account.
So how do you link your Foursquare page to Facebook?
Linking to your Facebook page from Foursquare is easy. Scroll with your mouse over top of your name in the top right-hand corner of any page on Foursquare. This will pull up the "Settings" option, which you should click on. This will give you the option "Sharing with other networks" and then click on "Add Facebook." It's here that you'll also be able to "Add Twitter" – and you should do both!
When you link to your Facebook, you'll need to authenticate your Facebook page, after which you'll be redirected back to your Foursquare page.
Here you'll be asked which Facebook page you want to link to, and then just click "Link." Now all of your shouts will also be pushed to your Facebook page.
Managing your Foursquare Page
The management of your Foursquare page will be the area that you find takes the most time, and you need to constantly stay on top of it so that your Foursquare page is always current and always has fresh new content.
And of course, so that you can always use all the tips and tricks to promote your Foursquare page (those will be covered later on in this guide.)
First, let's get started learning how to manage your page.
Log into your Foursquare account with the same login information that you used to verify yourself as manager. Once into your account, scroll over to the top right-hand corner of your screen and find the drop-down menu.
From here you can choose the "Page Management" option. If you have more than one page on Foursquare you'll need to choose the page that you want to work on. Then click on "Act As," which will also be found on the right-hand side of the dialogue box. This will redirect you back to your page. While you are acting as your business' page, a yellow navigation bar will appear at the top to tell you that you're working as your business.
Every action you take while you're acting as your page will show up as your page doing that action. This means that if you check into a business while acting as your own business, it will look as though your own business was there.
The first actual management task that you should do is leave tips for other venues.
Just like commenting on other landscaping business' blogs and websites this leaves your name on yet another website, and every person that visits that venue on Foursquare and sees your business' name might just check out your venue too.
Find businesses that you've actually visited and that you have helpful information to give to other people.
Is there a zoo in your area that you've visited? Leave a tip about which exhibit is best to see first.
Have you been without a seat at your local theater because you arrived too late? Leave a tip on their page telling other people to get there with plenty of time before the show starts.
This not only promotes your own business but also lets others know that you're not only on the network to promote your own business – something they'll appreciate.
Adding a tip is easy. At the top of any page in Foursquare you'll see the "Page Management" link. Then just choose the page you want to add tips for, and then leave whatever tip you want!
Along the same line, encourage users to leave tips for your lawn service, too.
You may know everything about your business, but you still never get to see it from a customer's perspective and they could have some very valuable insights to your business, and what's best for the customers.
Maybe there's a certain staff member that customers like to deal with and they want to tell others; or maybe there's a certain spot that's the best place to sit in your café. These are things that might not be known to you, but they might be felt by every customer that comes into your business. These are tips that are helpful to others, and to your business.
The next step that you'll have to take is to add friends.
Remember, even though Foursquare might be a social network that is localized and focuses on promoting businesses and telling people about them, it's still a social network.
This means that you still need to add friends and try to build your network as large as you can. To do this, make sure to add everyone that's in your Gmail contacts, as well as your Facebook friends and your Twitter followers.
Don't worry about it too much if you don't have a lot of friends at first. Even though it's been around for years, Foursquare is still very new to many people so you might not have a huge long list at first. And because Foursquare is such a localized network, you might only want to add people who are close to your physical location. This is a decision you'll need to make for yourself, as this won't be the most profitable strategy for every business.
Next, you have to get active on the network.
This involves checking in with your own lawn business every day that you go to work.
This has several benefits for the business owner.
The first is that it tells people where you work, in case they want to come visit you while you're there (and they might just buy something when they do.)
The second benefit is that it's a continuous reminder to people that your business is out there, just waiting to serve them!
And the third is that it will help you become "Mayor" of your business. What is that, and why is it important?
In fact, it started out as a game and quickly grew into the buzzing social network it is today. Every time a person checks into a location, they earn points and a certain number of points will earn them badges – and you too! Be the one who checks into a certain business the most, and you'll become Mayor of it! And who else should be Mayor of your town but you?
How do you check into businesses?
While you can't yet do it through the actual application, you can visit Foursquare's mobile website at https://foursquare.com/touch to check in. Look for your business, or any other business that you want to check into, and click on "Check In."
Once you've done this a dialogue box will open that will allow you to leave a shout and also submit your check in to other social networks such as Twitter and Facebook. You'll have to confirm your check in by clicking on the green "Check In" button, and you'll be effectively checked in.
Now that you've started checking in to your own business, and now that you're Mayor of your own business, you need to start getting others to do the same.
You can downplay the Mayor aspect a bit, as you'll likely want to be Mayor of your own business; but you should offer people incentives for checking in to your business. Offer something such as a 10 per cent discount for checking in, or give them a complimentary gift after they've checked in five times. People love to get things for free or at a huge rate discount; and this will spread the word about your business on Foursquare quick.
Foursquare also has status updates, but in this case they're called "Shouts."
Update your status every day, but no more than that, as it can become irritating to people to see that you're the one they're always seeing. Make sure that you link these shouts to Twitter and Facebook, so that everyone can see when you've added something new to the site.
Shouts in Foursquare can even be more effective than tweets and status updates because you can get creative with them and really get the buzz going.
Another very creative way to use shouts is to give a special discount to the first several people that check in. "Limited time only – offering 50% off to the first 50 that check in!" can be a great way to drive business on a slow day.
Once you've been on Foursquare for a little while, you'll be able to be featured in Foursquare's page gallery. This gallery is a huge collection of the best pages and locations that are on Foursquare; but not just anyone can be featured in the gallery.
In order to get your business listed here, you must first add a banner, add a picture, write a description, link to Twitter, and write 5 tips for other businesses. Once you've completed all these tasks, you can then go back to your "Settings" page and check the box to have your page featured in the gallery.
 Best Practices for Foursquare Lawn Business Marketing
You know all about Foursquare and have set up your page. You even know how to use it to effectively market your business.
But, to increase the amount of check-ins your business receives, and the corresponding profits that go along with it, here are a few more tips on how to use all the features of Foursquare:
Put action into your tips.
People do best when they're told exactly what to do. Use phrases like "Check in here!" and "Order this today!" You won't leave them guessing.
Be specific in your tips.
Don't group a bunch of your products or services together. People are so busy today, are looking at so many different things, and have a lot of things to read on their mobile phone. Give them one thing at a time ("We have a helpful new product called "X" that will virtually clean the floor for you!") and again, they won't become confused.
You might know everything about your business, but that doesn't mean that your customers do; and there's nothing people love more than thinking they've got the inside scoop. Shout out a little secret about your company, something that's not very well-known, and people will love your business for it.
Again, with so much to read these days people can no longer sit through boring text – even if it is only one or two lines. Inject humor when possible to show your personality and to keep your business in the minds of your customers.
 With every tip you write, other users will be able to click on the "I've done this" button. If you write a review, people won't click that button.
Don't talk about your business when leaving tips.
Tips are supposed to be exactly that – information that will be helpful to other people. Strictly using this area to support your business will not be useful to others, or to you.
Along the same lines as the above tip, it's not helpful to anybody if you leave the same exact tip for ten different venues across town. Be unique and original in your tips, and they'll work the way they're supposed to.
Use Facebook and Twitter.
 And use it for more than just pushing your shouts onto. Post completely separate tweets and status updates asking people to check in and follow you on Foursquare.
Place your Foursquare address everywhere.
The chances are good that you already have a number of places that show your Facebook and Twitter address to others. There's no reason your Foursquare address can't be there, too. Also remember to include your Foursquare logo in these same places.
 Practices to Avoid
Just like everything else you do with your online marketing, there are best business practices, and there are the ones that you need to avoid.
Here are those ones, so you don't make a mistake as soon as you've registered.
Do not include

"couch check-ins."
Foursquare will let you check in anywhere, even if you're not actually there. It has no GPS and so, it can't actually tell whether or not you're actually at the location. This means that you can sit at home on your couch and check into any place you want.
People do this for a number of reasons. Either they want to earn badges for certain places and events, or they just want people to think they were there when they weren't.
While you can do this on Foursquare, it doesn't mean that you should.
 Only check in when you are actually in that physical location. Otherwise, there's really no point in being on Foursquare.
Do not use retro-active check-ins improperly.
Did you go to work today and forget to check in that you were there? No problem, you can do it when you're at home – even if you're on the couch. The difference between a retro-active check-in and a couch check-in is that you were actually there just a little while ago; you're not trying to tell people you were somewhere that you weren't.
However, you must use retro-active check-ins properly; and that means posting them as an "off the grid" check-in.
Do not check into your business more than once a day.
Did you check-in when you arrived at work this morning? And did you want to check back in when you return from lunch? You can't, and this is something that Foursquare does actually prohibit. Every business you check into can only be done once a day. And really, you don't need to do it any more than that anyway.
Do not ignore the rules of checking in.
Yes, a lot of them have been covered here. But still, does it count if you just walk by a business and you want to check in? If you stop into a restaurant for five minutes to see if someone you know is there and then don't stay, can you check in? No.
The rule of thumb is that you either must be in the location for ten minutes before checking in, or you must use the business for its actual purpose.
Walking into a store where your friend works and chatting for 20 minutes would call for an "ethical check-in," as would stopping in a coffee shop for two minutes to pick up your daily cup of java. But just walking in and out of a business does not require, nor should you leave, a check-in for it.
Do not check into people's homes.
Are you a healthcare worker that makes house calls? Or are you an insurance representative that does most of their business in other people's homes throughout the day? You cannot add these places to Foursquare simply so you can check into them.
This is important, because if you do you'll be infringing on someone else's privacy. That's not only unethical, it could seriously hurt your business, too.
Yes, you want to share as many as possible, but only the really helpful ones that people will be interested in. They will be interested if you visit 10 different interesting places that day, so go ahead and share them. But do they need to know that you're checking in to your own business every day? Probably not.
Share this on Twitter and Facebook maybe once a week and that will be enough to keep your business fresh in their minds. But they probably assume that if you work there, you go quite often.
Common Questions
Still have questions? Lots of people do, especially because Foursquare is so new.
Here are the answers to some of the most common questions.
How do I delete a location?
If you're deleting a location because it's already been added to Foursquare, you should not delete one of them. Instead you can merge them.
To do that, click on "Edit Venue" where you see it on the blue bar and you can check it off as being a duplicate. In order to delete a venue you need to send a request to Foursquare. When you do that, there are a few set reasons that Foursquare will accept for the deletion: it is your home and you do not want it on the network; if it's inappropriate; or if it does not exist.
What is a Foursquare Window Cling?
A Foursquare Window Cling isn't something you'll use on Foursquare but rather, something you'll use to point people to your Foursquare venue. Just like the name suggests, it clings to any window and will tell people to "CHECK-IN HERE!"
Best of all, when you put your venue up on the site, you will get one for free right after claiming your venue.
Can you claim moving businesses, such as a landscaping service?
Yes, you can; but there are a few provisions you must follow. The first is that because the "Places" tab does use a user's physical location, it's best to use the location in which the business is at most often.
You should also include your nearest address in any call to action that you shout out; and window clings should also be used wherever possible, in as many places where the business visits.
How do I add employees to my venue?
You can always go back and add extra employees to your venue at any time. Go to your venue's page and go up top to the dashboard. On the top right-hand side of the page you'll be able to simply just type in their name and click on "Add." Once you've added any employee, you can promote them to a manager's role.
How do I fix my venue's name if it is wrong?
You can change your venue's name at any time if your claim has already been approved. Click on "Edit Venue" and then edit the venue to change the details, ask for merges, and change your name. Click on "Edit Venue Details" and change what you need. Click on "Save" and any changes you made will be saved.
How do I change my locations on the map if it is wrong?
Once your venue has been claimed and approved, changing the location is very easy. Hover your mouse over the arrow pointing to your location and then drag it to the proper place on the map. Make sure before you do this that it's not your address that's wrong, as this will also result in an improper location.
How can I claim multiple venues?
You can claim as many venues as you'd like on Foursquare, but you have to be able to prove that you are the manager or owner. There is one form if you are claiming 1 – 100 venues and a separate form if you are claiming 100+ venues.
Why isn't my business showing up in the search?
A venue search will only pull up venues that are nearest to your location. Because of this, it will only show you venues that are in that city. If you don't think that's the reason it's showing up, visit your venue may not have been added properly and you'll need to go to https://foursquare.com/add_venue.
Conclusion
Foursquare might be relatively new to most users, but it's part of the social media that is going to take over the marketing world within the next decade or so.
But if you want people to know where you are, and you want to bring more customers into your business, it's a network that you need to be on.
Hopefully this guide has shown you everything you need and answered all your questions so that you can go ahead and get started on Foursquare. And if you still have questions, or you just don't want one more account to keep track of, hand it off to a local marketing consultant who can do it for you.
It's worth the effort; it's worth the time; and because Foursquare is free, it's definitely worth the money!