When I got home today I noticed a plastic bag, with something heavy in it, on my stairs. Yup. It's that time of year again. New yellow page books are out. Now I'm not saying that advertising in the yellow pages is pointless. Anyone going through the trouble of looking up "lawn care companies" in those books are highly targeted buyers. The thing is, they are ridiculously expensive, and a big fat dinosaur…
Yellow Pages Are Not the Best Landscaper Advertising in 2016
But I noticed something on the bag that proves my point. Look at the bag photo. The foremost selling point that the yellow pages are making is printed right on the bag.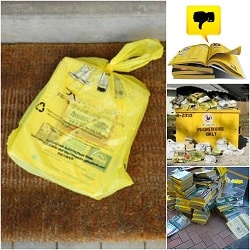 The message? "Advertise with us and we will get you listed online."  Hows that for a statement right from the horses mouth! The problem with being listed with "Dex" is that when a searcher clicks the "Dex" link, all your competitors are sitting right next to you.
The Internet is Where Your Customers are Trying to Find You
We all know the yellow pages are dead That is a fact. Lawn care flyers and door hangers are a joke. "Word of mouth" recommendations are the best of course, but what if your customer base is still small? How do you get more customer's?
In 2016 there is only one place to consistently get more customers, and that is the World Wide Web.  Nielson Ratings (they rate all advertising, not just TV) said in there 2014 report that %80 of ALL customers use the internet when looking for a lawn care company, plumber, pool cleaner or any local service. So this means that if you are not on the first page for a search of  "lawn service Fort Worth TX" (if you cut grass in Fort Worth) you lose access to %80 of all your potential customers. A new survey says that 90% use search engines to find products.
The Online Yellow Pages are Not Much Better
When you list with an online yellow pages, it is just like the phone book. You and everybody else lined up next to each other. It is very hard to stick out and get the call in that environment.
But, if you get your own site in the top five search results for "lawn care Denver CO", when they click your link, you have their FULL ATTENTION with no other advertisers next to you on your website. It's just you and the potential customer listening/reading your pitch. Like this guy (#3 for Denver lawn care)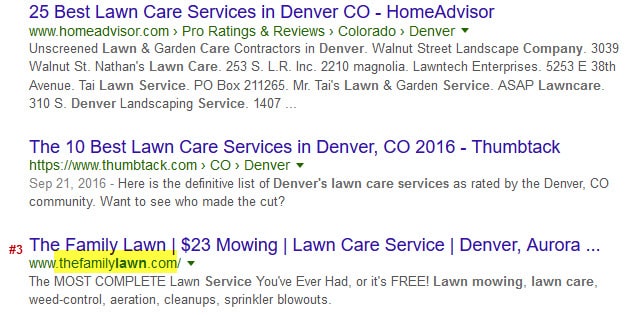 So that begs a two part question "How do I get my landscape company on the first page of Google.com?"  "Isn't that super difficult?"
Part 1: "How do I get my landscape company on the first page of Google?"
There is a system, a step by step process to not only only getting a "spot" on the first page of the search engines, but to get more than one! Now if you are trying to get ranked in a huge market, like Chicago, you won't be able to take the whole page. The competition is just to tough. But you can be on the first page of Google.
Part 2: "Isn't that super difficult?"
No it is not. It is not "techie" rocket science. It is only, for the most part, typing. Heck, I type with one finger and you are reading this after searching for something related to lawn care marketing or landscape marketing. I don't know HTML, PHP or any of that other stuff. I'm a lawn sprinkler repair guy that after 10 years of working on my own site (that I  sold to SprinklerWarehouse.com) I've developed a simple system on how to rank websites. So, no it is not difficult. You only need to know what to type, and where to type it. You can hire your out of work bum brother to type it for you if you want 🙂
The Search Engines Change Constantly
Google.com is always changing, and at the moment the fastest and easiest way to get on the 1st page is by using YouTube.com. Of course, you will want to rank your actual landscaping website as well.
Landscaper marketing used to be a phone number on a  truck magnetic sign and lawn flyers. When you got more lawn customers, and could afford the high cost,  you would buy an ad in the Yellow Pages.
Sorry people. That is so 2008! It just doesn't work anymore. And the yellow pages are WAY too expensive! $1000 + a month for a full page ad? Here in Orlando it's $2500. Per month, per book. We got three. $7500 per month. Chances are, if you were getting a positive ROI on $80,000 + per year on advertising costs, you would not be researching "lawn care marketing" right now on your computer or phone. Ya with me
?
Why Do the Yellow Pages Push Their Website?
Why do you think "Dex Knows" is all over your television? The yellow page companies understand that their yellow books are filling the land dumps.
First, nobody reads the yellow pages anymore. Even your Grandma buys her knitting supplies online. When a potential client is thinking about/or looking for a landscaper, they go online and search. It is faster, easier (especially by internet phone) and you get far more information about lawn business companies in your area.
And as always, the "game is afoot"! Google has now scraped the "7 box" to the 3 listing "snack pack" where local businesses advertise, so the "above the fold" space is even more limited.
Ranking the Numbers
This is super important. If you are not in the top 3 returns for "lawn service Atlanta" your chances of getting clicked go WAY down. Not only that, but the top three returns pull more responsive buyers. Basically, in 2016, if you are not in the top five returns, your marketing mower is out of gas and will not cut grass. Period.
So, how do you get your lawn business found online?
You just let the search engines know what your website is about. YOU (your website) has to tell the spider bots that your website is about "Miami lawn care services" or whatever the case may be. So how do you do this? It's all about five things:
2. Descriptions
3. Content
4. Site structure
5. Links
I'm going to be going over all these five concepts, in step – by – step detail in my free videos for you. Not only do I know this stuff, but I am enough of a geek to LOVE this stuff.
I love the "rush" of seeing my (and my clients) websites crawl up the search engine rankings. You can see your progress. It makes you feel good.  It is victory!
If you are reading this, you typed into an SE (search engine) something to do with lawn/landscaping business or marketing. Keyword difficulty software tells me that I have a ZERO to NO CHANCE of ranking for these type of keywords. They are just too difficult for a small website like mine…
yet….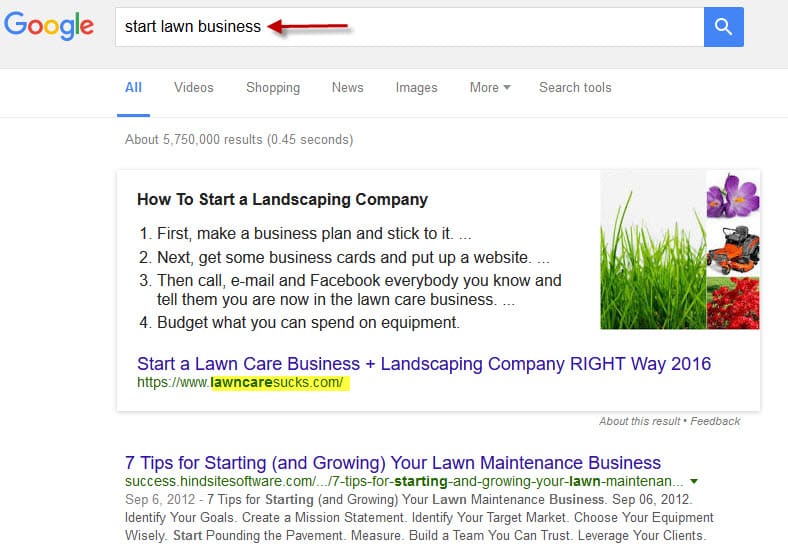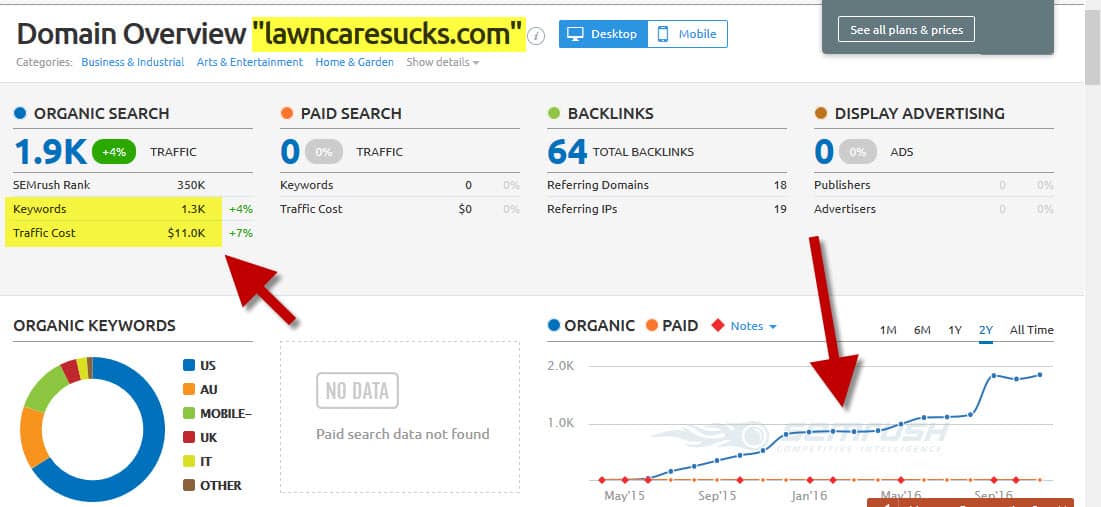 Yet here I am, ranking for 1.3K (thousand) keywords! How ya doin'? Nice to meet you! 🙂
Without a doubt, if you listen to what I say, but more importantly, do what I say, you will be in the top five returns, and your lawn service business will explode! Just sign up for my free videos.