While it may seem kind of obvious to some (especially with all the social media outlets out there) it can become a little confusing and overwhelming when deciding which bits of information you want to include on your lawn care business cards. After all, you only have so much real estate on that tiny card and you want to include the information that's going to have the most impact and the greatest chances of a positive outcome for you and your business plan. Your landscaping business card is part science and part art in many ways, and a necessary part of your advertising when you start.
Lawn Business Card Considerations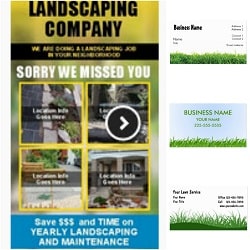 The information itself is somewhat scientific: your name, website address… maybe your business address if applicable… but there is also an element of showmanship and design creativity that borders more on the "you know it's right when you see it" category of things rather than an exact formula. Here, we'll look at a couple of marketing ideas and guidelines that I recommend when approaching the design of your business card. Disregard what does not apply to you and your landscape business and tweak, modify and then implement any ideas that stand out to you.
Templates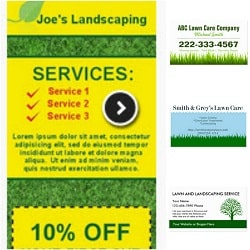 First, let's cover the basic information that you should always include on your lawn service business card. More times than not, you would want your name, company name, slogan and logo, physical address, website and best avenues to contact you. It may be appropriate to have your email address listed on the business card, especially if you are the sole owner of the business. Sometimes though, it may make more sense to direct the person to the website to get in touch instead so that you can utilize a contact form in case messages need to route to a different email or different person in the future.
Your Phone Number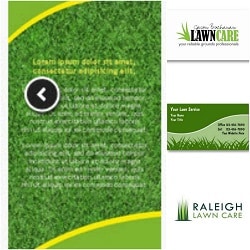 Since my lawn business is more mobile, I use my Google Voice number on my cards so that I have the benefit of not giving out my personal number and also enjoy the flexibility of pointing that number to my best real phone number at any one time. If I change my phone number, my clients never know it and are not bothered by having to update their information, etc. I simply log into my Google Voice account and update the number(s) that are dialed when someone calls by Google Voice number. It can also ring multiple numbers at once (like your cell, office, back office line, etc.) so that you never miss a call no matter where you are. You can setup rules to auto forward calls to voicemail at certain times of day, such as at night. I'd recommend looking into the service (it's free to boot!) and using that number on your business card instead of your real phone number.
Some Lawn Care Business Card Ideas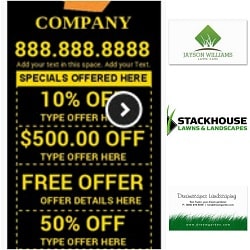 I am a big believer that your business card is a form of advertisement and as such, should include a call to action. This is especially important if you are promoting your social media presence like Foursquare and prioritize those outlets in your marketing plan. I often see businesses saying "Like Us on Facebook" or "Follow Us on Twitter" but rarely do I see a business tell me why I should do those things. If you plan to use your business card as sort of a residual advertising platform out in the real world I would recommend allocating a tiny space for some sort of a call to action that contains a benefit to the potential client, partner or customer. This can be something such as "Like Us on Facebook for a FREE Mow" or "Follow Us on Twitter for a 10% Discount!"
Remember, the printing of the business card will likely not be impacted at all by the extra effort but the impact to your bottom line could be tremendous especially when you consider the lifelong value of a new customer.
Examples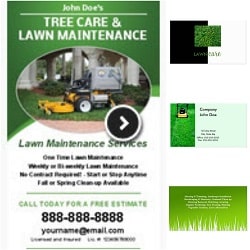 In an effort to stand out, especially in more creative industries such as marketing or fields in art design, some people will use nonstandard sizes or shapes of business cards. The idea is that you will not only be remembered more easily because of the impression created when you hand that card to a customer but that you will also create something that stands out in that customer's wallet or purse in the future instead of getting lost in the sea of other flyers. As mentioned before, this is the art portion of the entire endeavor. The balance is when you can find a functional design that doesn't distract from your message and looks both professional and somewhat edgy or "outside-the-box". Many online business card printers allow you to print in a portrait layout rather than the traditional horizontal, landscape layout. Many also offer rounded corners or larger sized business cards. The benefit of going with an online printer is that you can experiment with these different variations and get a very accurate rendering of the final outcome right there on your screen before investing any money into the print job.
Logo Design
We've covered logo design from previous articles and naturally you would want to include your logo and/or slogan here on your business card. This is tremendously helpful for branding because as we all know once a symbol or graphic becomes mentally synonymous with a brand, emotions can be evoked in the minds and hearts of your customers within moments of seeing that logo. This is why tons of money is spent annually by the world's largest companies to embed their iconic logos into the minds of us, the consumer.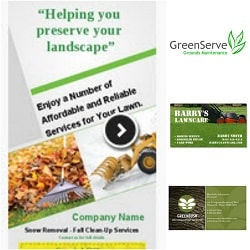 If your business card is very color intensive, particularly if there are gradients or if the exact colors are extremely important to your brand, it may be worthwhile to order proofs or do a small run of cards first as what you see on your screen may not always match exactly what's printed in real life. This is fairly common sense but there is no way that the printer can know the settings of your monitor and vouch that what you see on the screen is exactly what will come out on paper. You can probably personally testify to that from past print jobs you've done yourself at home. The coloring doesn't always perfectly match. Getting a physical proof or doing a very small run of cards (both options are usually available with online business card printers) is the best way to ensure that your cards will come out just right.
Card Design
You could even make three or four different variations of your card, adjusting the colors slightly on each variation, and then either ordering proofs or very small runs of each design. This way, you get in the mail four or five different printed variations of your card and hopefully one will exactly match what you want. This will save you time going back-and-forth tweaking and reprinting and will save you shipping costs and of course the expense of the cards themselves.