The market for landscaping business has never been more competitive. In order to compete with your competition in your marketplace, you need to be more innovative than ever. The same old tried and true techniques are simply not effective anymore. The old methods of printing and passing out lawn care flyers simply does not 'fly' in the 2016 marketplace. The high cost of printing combined with the changing behaviors of consumers completely eradicates lawn care flyers as an effective advertising strategy. The photo below is a flyer that some landscaper threw in my yard. Do you think I would ever consider hiring this service? Here is my view in a nutshell:
How + Why Lawn Care Flyers Don't Work in 2017

Lawn care flyers and door hangers are an outdated and inexpensive paper distribution advertising medium, often inexpensively photocopied and distributed in public places like laundomats and grocery store community boards, on car windshields or at homes. Sure, before the internet your only other marketing choice was the Yellow Pages. "Dex" is hanging himself in his garage as we speak. However in 2016 and 2017 we have better promotional business choices for our landscaping companies.
No matter the format, whether post card size or full letterhead, ROI is very low due to poor targeting (meaning the number of people wanting your landscaping service vs. those that don't.) It's like giving away hotdogs at a Vegan Confrence. You will have a low number of takers.
Have you ever heard of Google.com? So have all your potential lawn care customers. Thats where they are, just like you. If people want your landscape services they will search the web for "your city landscapers." Lawn care flyers are now street trash.
$100 dollars of correctly placed Adwords will beat $100 worth of landscaping flyers or door hangers everyday, without all the walking.
Sorry, but you kinda look like a loser when you hand out lawn mowing flyers.
If this service can't afford buying some online ads, I don't think they would have liability or workers compensation insurance. And quite honestly, I would question their intelligence. So don't waste your time or money on door hangers or direct mail. Here are alternative methods that you can use to get more customers.
Here Are 3 Big Reasons Why Lawn Service Flyers Don't Work Anymore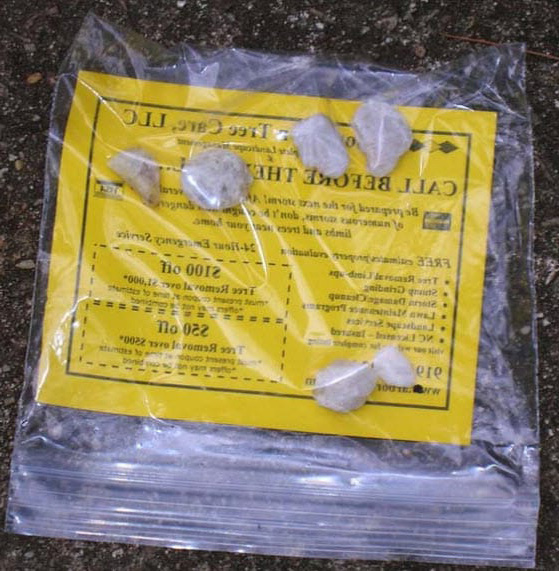 1. High Cost
Let's face it, printing hundreds and thousands of flyers becomes costly. The cost of ink and paper is at its peak. This is mainly due to most businesses simply forgoing this lawn care marketing strategy all together. This leaves printing businesses left with two options. One is to exit the business altogether. The other is to raise their prices. Therefore, you are going to end up spending a ton of money on printing costs and you still have to either pay to have them delivered or deliver them yourself. And with the high costs of gas, you are bound to increase the total costs in dramatic fashion. Add to that the fact that flyers and door hangers are extremely un-targeted. You're hoping that one out of hundred (if you're lucky, and you probably won't be) will want you to cut their grass or landscape their yard. When you have an online presence either by having a well ranking website for your keywords or by online ads, your customers are coming to you. They are already looking for what you have to offer.
2. Attention Span.
The reason why the method of printing flyers used to work was because the consumer was paying attention to their mail and hangers. They didn't simply discard them immediately. Nowadays, consumers are tired of being bombarded with advertisements throughout their daily life. Most consumers are at the point where they simply do not want to deal with it, especially at home. Because of this, your flyers are very likely to get discarded before they are even looked at. This leads the marketing strategy to not only be ineffective, but also a complete waste of money.
3. Consumers Are Not Looking There Anymore.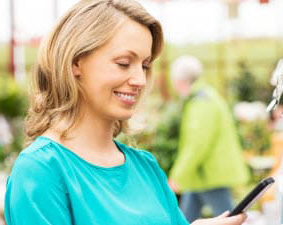 The fact is, consumers are turning to the Internet more and more in today's marketplace. They want their answers and information presented to them instantly. Most consumers are turning to search engines to find the businesses that they need. Because of this, they are no longer looking in their mailbox or for direct mail to find businesses and services that they need. Not only is it inconvenient, but they do not get all of the information that they want to make a hiring decision. Because a flyer has so little space, a business is not able to provide all of the information that a consumer would need to make a hiring or purchasing decision.
They will end up having to go to the Internet anyways to get their questions answered. For this reason, they simply go to the Internet and find what they need without even looking at their direct mail. Because of this, it is very likely that the consumer finds a landscape business or lawn service to utilize before they ever even have a chance to see your expensive direct mail piece. This ends up rending your piece useless.
Now that you understand why advertising your business via flyers is not an effective marketing method anymore in the age of the Internet, we will go over some of the better ways to market your landscaping business.
The New ABC's to Market Your Landscaping Business Online:
A. Ad Words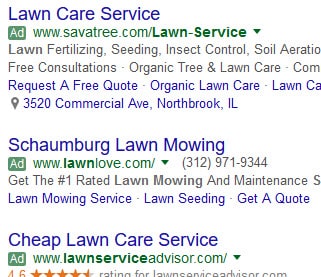 One of the best ways to market your landscaping business is by using Google's advertising platform – Ad Words. This is a good method for those trying to get more business for their landscaping company because you can specifically target your Ad Words campaign to target those that are in your vicinity. Also, you can target those that have the decision making ability for their household. Lastly, you are going to be able to target those with yards. Because of this, you are not going to end up wasting money on customers that would never even consider getting landscaping services to begin with. Also, you will only pay for those that actually click on your advertisements.
B. Search Engine Optimization
Another effective way to market your business in today's marketplace is via SEO. An increasing number of consumers are not turning to the search engines to get their questions answered.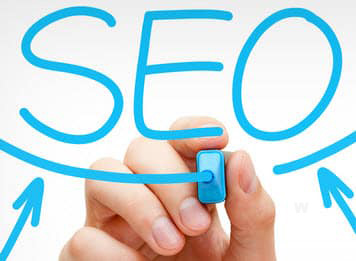 Because of this, you are going to benefit more from targeting specific keywords and key phrases for landscaping services. You will be able to rank your website for specific keywords related to landscaping which is bound to drive more traffic to your website where you can convert prospective visitors to customers. This will get your business in front of people that are actually looking for your services.
C. Social Media Marketing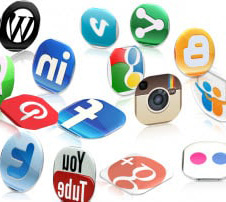 Social media marketing is another effective way to market your business online. Because the world is more social than ever, by marketing your business on various social media platforms, you are going to be able to make your business look more presentable, you will be able to connect with your customers better, and you will be able to increase your brand awareness. There are free ways to gain social media exposure like Pinterest and paid platforms such as FaceBook ads. These are very targeted ways to engage with prospective clients.
In short, forget about passing out lawn care flyers and turn on your computer. You'll get more customers for less time and money.