What lawn care marketing strategy will give your lawn care business the best chances of success in this challenging economy?
Remember when customers used to go looking for your service in the Yellow Pages phone book, letting their fingers do the walking? Those days have long gone, haven't they?
Nowadays in most areas the Yellow Pages phone book is all but dead! What about traditional print newspapers or lawn care flyers?
Lawn Care Marketing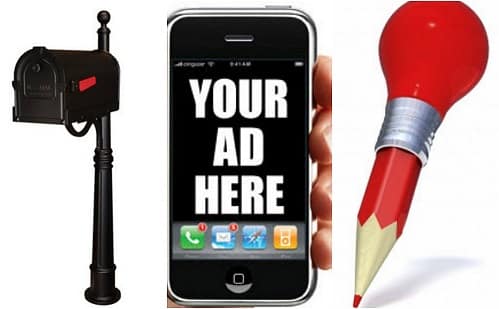 Diversify. Don't rely on only one approach to or idea about marketing strategies.
Except the "flyer in a bag of rocks." Cut it out, it makes you look like a loser.
Learn how to rank your website in the organic results + Google for Business. We can show you step by step how to do that. We've done it MANY times.
Learn to use Facebook Advertisements and Adwords wisely. Do it wrong your'e wasting your money.
1. Advertising in the Newspaper, Good or Bad?
In recent years, the circulation of newspapers has declined by as much as 7 million, a drop of about 19% just last year alone. In contrast the number of unique readers of online newspapers has increased by a dramatic 29% in the same time period. The significance of this is that any company that depends on traditional newspapers for its lawn care marketing will find it increasingly difficult to hold onto their customers as well as generate new lawn care business.
This raises a crucial question regarding marketing your lawn service, namely, "What is presently the most cost effective way to generate new business and promote your services to existing customers in your lawn care business?"
2. Strategys for Getting on the 1st Page of Google
Recent statistics regarding Internet usage indicate that almost a billion websites are being accessed by more than 3.5 billion Internet users around the world. What a phenomenal market!
Did you know that between 84% to 94% of all local customers actually research a business on the Internet before even making contact with them to make a purchase? Do you see where almost 90% of your prospects are right now? Yes, they are searching on the web looking for a business like yours.
Are your prospects and customers finding your Website when they go searching? Or do they find your competitors instead? No doubt you can see the need for an effective Website SEO plan to carry out your lawn care marketing. Having a meaningful online presence is fundamental to the survival of a business in today's marketplace.
Nowadays customers expect you to have a Website. But more than that, they expect to find an engaging site loaded with sufficient, valuable content in the form of articles about your service and products and videos that inform, enlighten and entertain. No modern business would even dream of operating without having a telephone. That's how it has become with having a website for your lawn care marketing.
3. Key Benefits of Using a Website Reviews for Your Lawn Care Marketing
The Internet has grown to become an information superhighway that is open for business 24 hours a day, seven days a week. Therefore having a website enables your customers and prospects to learn about your business at any time that is convenient for them. For example, while you sleep at 3 AM in the morning, your prospects can be watching videos or reading articles on your Website without any need for your personal intervention.
From your site, they can submit an inquiry for a price quote or other requests for information regarding your services. In this way it serves as a lead generation tool and every business needs a constant flow of quality leads in order to be successful.
In addition, on your site, customers can pay for invoices and schedule service calls as well as upgrade the service offering they receive from you.
4. How A Lawn Care Advertising Website Helps Customers Find Your Business
But you may wonder how customers are able to find your particular Website among so many other millions of Websites online today. We are thankful for the help of search engines such as Google.com, Yahoo.com and Bing.com, not to mention a host of other smaller search engines.
5. Understanding Search Engines Like a Lawn Care Marketing Expert
A search engine is simply a computer program that catalogs Websites online, keeping track of the content found on those web pages and matching up the site with a given search request. For example, to search for a Website like yours, your prospect may enter "lawn care service" into the search engine which then examines its database to determine which Websites offer content that is the most relevant to the searcher.
It's a bit more complex than that because there may be several Websites featuring content on that same subject. So the search engines have a way of grading Websites based on the quantity, quality and relevance of the content to the search. Also if a Website has greater trust in the eyes of the search engines, and a higher ranking, it may be displayed higher up in the results thus receiving more search traffic. But how is this higher ranking accomplished?
6. Understanding  SEO for Lawn Care Advertising

High ranking and greater trust are achieved by a process known as search engine optimization, abbreviated SEO. Effective SEO performed on a Website can bring a flood of traffic to the site resulting in increased sales and profits. But how is SEO performed?
A website is optimized in two ways, on page optimization and off page optimization. On page optimization involves the way that the content on each web page is organized and formatted, letting the search engines know what the Website is all about and that its content is relevant to a particular search phrase or keyword. On the other hand, off page optimization is performed on other Websites by placing hyperlinks that point to your website.
So the more high quality back links that point to your web page the greater its popularity and trust in the eyes of the search engines. Among the ways used to generate such back links and increase the rankings of websites are the following:
Article marketing, press release marketing, website directory submission, social media marketing such as Facebook, Twitter, social bookmarking and RSS, to name just a few.
7. Other Benefits of Lawn Care Advertising Online
As business owners, we all know that selling to customers takes effort and money. But when a customer searches for your business online and visits your Website, these are the best kinds of customers! Because you're providing the exact service which they're searching for, we describe these customers as highly targeted.
Not only is this high quality traffic, but it is absolutely free as there is no charge by the search engines for these referrals. And once you have optimized your Website to receive this traffic it pretty much runs on autopilot. As you can see, online marketing of your lawn care business is the most cost effective and targeted form of lawn care marketing.
So, you no longer have to spend hundreds or thousands of dollars each month paying for Yellow Pages telephone book advertising in an unchangeable 12 month contract. Instead, market your business for free on the Internet. The right information can provide you with appropriate consultation and help you achieve good results in your lawn care marketing on the internet. Here are some more landscaper advertising tips