Why Should You Know about Landscaping + Lawn Care SEO? Watch the Video Below…
What is Lawn Care SEO?
SEO stands for "search engine optimization." These are specific actions you can take to help your website rise to the first page of the search results.
There are three different ways to be on the 1st page and each requires different actions.
The first way is to be included in the Google Business maps section.
The second way is to be listed in one of the ten organic spots.
The third way is to place an advertisement like Google Adwords.
Although not as popular as Google, Bing and Yahoo recieve roughly 20% of all search traffic according to SearchEngineJournal.com. Meaning; it helps to be listed in those SERP's as well.
In 2018 good SEO on your landscaping website is an essential part of your marketing.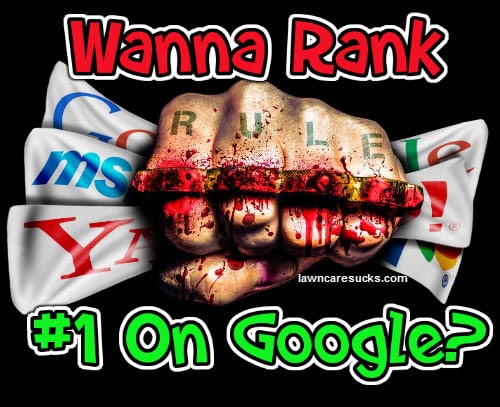 "Your Lawn Care SEO Blueprint"
You are reading this report because you would like to learn how to rank higher in the search engine (SE) return pages (Search Engine Return Pages aka SERP's) which equals getting more customers.
Please Note: SEO is a complicated subject to fit into one report so be sure to click the links in this document for expanded information.
Who am I to tell you how to do this?
My name is Craig Borglum, and I'm a Search Engine Consultant. My main income used to be from landscape maintenace for large lawn care firms (think trucks with red/white letters, white/green letters), then repairing lawn sprinklers for myself (IrrigationRepair.com), but now it comes from ranking websites for other people. Over 17 years ago (long ago in the "days of yore" as far as SEO is concerned.) my brother was on the Google advisory board. He SEO'd my website, IrrigationRepair.com (I sold it in 2008.) I became #1 on Google for "sprinkler repair", "irrigation systems", and hundreds of other keywords. At the time I thought "who cares if a guy in China finds my website?" Yes, I was clueless. However I found the process fascinating, and listened and learned. And learned some more. Then I got real interested.
I spent $10,000's on books, software, and scams, most of which was wasted money. But in that 17+ year learning curve, I did find out what really works. And guess what? It was the same stuff the Google said would work all along (but "big G" does not tell you how to get there!) However, you can no longer "party like it's 2009". The competition is fierce even for terms in smaller cities. Google is changing every day (500+ algorithm changes per year!). Everybody is now online, and everybody wants to rank their website on page one.
Ten years ago my Grandma thought the internet was the devil. Now she buys knitting supplies online with her PayPal account. In 2017, "yellow phone books" are couch levelers and door stops. Customers search with their cell phones online when they are stuck in traffic and remember "I need to find a new landscaper" or "Darn, I just remembered that the tree in front needs trimming". Yellow Pages? TV antennas? Pay phones? Lawn care flyers? You get the idea.

Basically, if you are not "find-able" online, you won't get called by many of your potential new customers.
Period. End of the debate. It's just the way it is in 2017 and beyond.
So let's move on to "getting found"!
SEO Theory

To rank higher in the SERPs requires two basic things: on page and off page search engine optimization (SEO). Although this report will focus mostly on the latter, without correct on-page SEO, the off page links will not work as well as they should.
This is not a manual on SEO theory. There are far better online resources regarding how SEO works. This is a nuts-and-bolts approach on what has worked well for me over and over again. All of my SEO clients are "above the fold" (the portion of the computer screen that you can see without scrolling down) or number one for their target keywords.
If you take action on the steps that I cover below, you will find your site on Google's first page!
Make sure to "bookmark" or "favorite" the following links as you check them out, for future reference.
Chapter 1
The Basics of SEO for Landscaping Websites


Most of you reading this will already know the following information. I'm including it for those that don't.
Just as the Dewey Decimal System helps library searchers find books, search engines (SE's) help web searchers find the information (websites) they are looking for.
The SE's catalog (index) and review website content using software (called 'bots or spiders) which crawl the internet 24/7 looking for new information to index.
In order to let the spiders know what your site is about, you need to tell them using on-page text. This is why pure "flash" sites have difficulty ranking quickly. Search spiders have a difficult time reading javascript and flash although they are getting better at it all the time. This optimizing of HTML text is called "on page" SEO. It consists of 5 main categories:
Title tags
Description Tags
Header tags
Keywords
Latent semantic indexing text or LSI
We are going to run through a pretend case study about a lawn care website to see how those four categories can work for you. Let's say you want to rank for the keyword "Atlanta lawn care" and already have the website www.BobsLawnCare.com located in Atlanta GA.
Domain Name Importance
Quick note on domain names: If you do not yet own a domain name, and you mow lawns in Boise Idaho, then www.BoiseLawnMowing.com, or www.LawnCutters.com would be a wise domain name choice. Many believe that an "exact keyword match domain" no longer works in 2018. That is untrue. What has changed is that if your domain is www.AtlantaLawnCare.com, you would be safer to water down the keywords in your title and description so that it does not looked over optimized, but there are exceptions to every rule. I took this screen capture below on 2/28/17 for the search "Denver Lawn Services."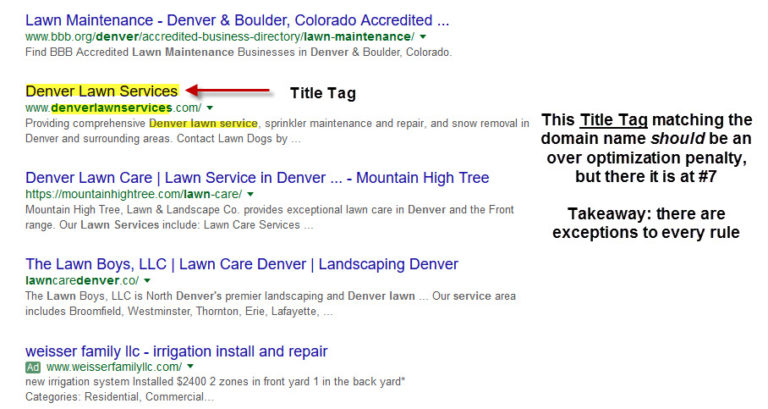 Another thought to why this site page isn't penalized is that it is 6 years old and could be viewed by Google as that is a brand name.
Notice in the photo above that "Denver lawn services" is the exact keyword match in the domain, title, and the description. This is not supposed to work in 2018, but there is the proof. In my experience Google does still give weight to exact keyword domains, but be careful if you have one. Generally you will get slapped by the Panda Update if you are not careful. In this instance a safer title tag could be "Denver Lawn Care", "Denver Lawn Maintenance", etc.
A safer domain name might be TheAtlantaLawnCareKings.com or AtlantaLawnCarePros.com as these domains would denote brand names which Google likes, and they also contain the keyword. These are called partial match domains. Does that mean you should change your current domain to a keyword loaded one? If your URL has been indexed in the SE's for one year more I would say no. To check age of indexing for your site click here. For Google, age of indexed domain counts highly. If your website www.JohnsLawnCare.com in Boise has been indexed for a couple of years you will rank above a brand new domain called www.BoiseLawnCare.com, if all SEO factors and back links are equal between the two sites.
You can however, keyword load the name of subpages or your blog attached to your website. More on that later. You can also do this; let's say you have a tree farm in Cincinnati Ohio called "Johns Trees". You could obtain the domain name www.treefarm.com, or JohnsTrees.com. Not that TreeFarm.com would be that relevant to your business from a geographical standpoint anyway. However, www.TreeFarmCincinnati.com is available (as of this writing, I just checked). If it was not you could insert dashes between the words, like www.Tree-Farm-Cincinnati-Ohio.com The problem is that the URL is too long to remember or cumbersome to use in other types of advertising. The solution is that you 301 re-direct your existing domain www.JohnsTrees.com to www.Tree-Farm-Cincinnati-Ohio.com. That way you can use the easy to remember URL in your offline advertising and still get love from the SE's due to your key worded domain.
Title Tags


As in a lot of SEO theory, the importance of keywords in your title is a hotly contested debate. Both sides can present compelling arguments on whether or not it helps in SERP ranking post Panda + Penguin updates. In my experience and testing, it is THE most important tag on your page! But remember, if your site is AtlantaLawnCare.com, don't title tag your page Atlanta Lawn Care. You might get away with it, but more than likely you'll get penalized. Other options would be Atlanta Lawn Maintenance, Atlanta Landscaping Services or Atlanta Landscape Maintenance. Meaning use other words that mean basically the same thing.
One thing that is certain; searchers look at titles first and descriptions second. Having the keyword they were searching for in the title will draw their eyes and the click.
The title tag for each page on your site should be keyword specific for that page based on the page content. For instance, in your index page (home page) code, you could write your title as
<title> Atlanta Lawn and Landscaping Service<title>.
Do not go over 64 characters, and leave out any non relative terms if possible. A word in your title either does or does not relate to the content on that page.
In your description, you want both your keywords, related keywords and a reason for someone to click on your link once they find you on a search engine (SE), such as:
<meta name = "Description" content = "Atlanta lawn care experts specializing in landscape maintenance for Fulton + Dekalb County. Download your online discount coupon NOW.">
You want your keyword near the beginning, and the reason for clicking the link (online coupon) after. Now for your other pages (let's say you have four pages), your landscaping page title would be :
<title> Atlanta Landscaping Company<title>
<meta name = "Description" content = "Atlanta l landscape installation and outdoor services. Call now for a free consultation.">
The actual landscaping page would be named www.BobsLawnCare.com /Atlanta-Landscaping. Then you would have your sprinkler repair, landscape lighting, and holiday lighting specialty pages titled, described and named in the same way.
Header Tags

Search engines spiders deem any text between the <H1> and <H6> tags as a significant indication to the page's content. So make sure you have your most important keyword phrase included in this area (per page). Here is an example: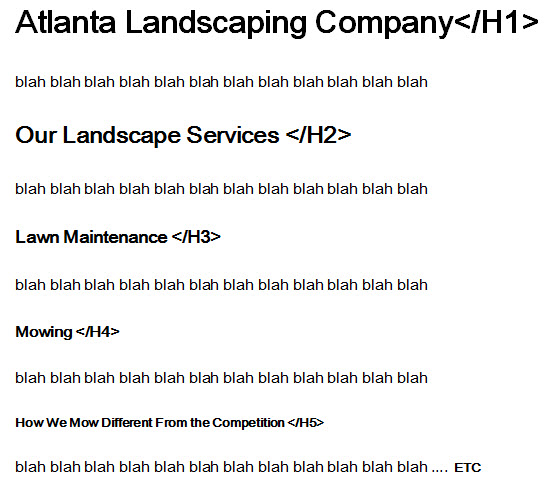 You would be suprised how much Google Love you can get by feeding the spiders the right way. By hierarchically organizing your content (Htags) Big G will have an easier time spidering your site.
Latent Semantic Indexing (LSI)

This is a fancy way to say use keywords in the body of your text that relate to the main keyword you want to rank. For instance, the words "shrubs, flowers, sidewalk edging, leaf rakes, lawn mowers, tree trimming, wheel barrow, weeding" are all LSI keywords to lawn care.
"Dishes, cabinets, refrigerator, stove, forks and spoons" are all LSI keywords for "kitchen." Getting it?
Here is something else that I know is certain. If the word "Atlanta lawn care" is included in a body text of 500 words twenty times, it will look "spammy" and Google won't rank the page. Lawn care is also "turf care" or "landscape maintenance." There is a lot of talk about keyword density. Personally I think it doesn't matter, except in the case of keyword stuffing (more is not better). Various theories shoot for a 3% to 5% density. I think that is too much. I say don't worry about it. The new Google AI is getting really smart so write for readers as much or more than the algorithm.
Keywords

Write naturally for your human audience and vary your keywords. To see what words Google finds relevant to "lawn care", go to Google Adwords (you will need a gmail) and type in lawn care, landscaping, landscape companies, etc. You can even download your results in different file formats. This free tool can also help you find more keywords. The more keywords, the better! https://answerthepublic.com/
Watch video below:
Here is a list of keywords to give you some ideas.
CLICK HERE to GET LIST.
(free)
To change "Atlanta" to "Your City" and save some time typing watch the video below.
On Page Inter-Linking

Before we get into "off site" SEO linking, let's first get our internal linking structure straight. Let's say you have a row of internal menu link tabs on your index page. You know, the "buttons" that take you from page to page. Do not use photos as links. Use spider-friendly text that is the keyword for the page. If you feel that you have to use photos, be sure to use "Alt. Tags" in your photo code. For example, "anchor text " (see below) the link to your home page "Atlanta lawn care", to your sprinkler repair page use "Atlanta sprinkler repair" etc. When you do "anchor text" links on the web, make them specific to the page content versus always linking to the index (home) page. Another helpful tactic is to include a Google site map that helps direct the spiders to the various content on your website. Set your pages that have no search engine relevance, such as Contact or Privacy to no-follow. This helps preserve your internal link juice, also known as "sculpting.".
Back Links

Off site SEO is performed using links. A link is a sign post for the spiders saying "Atlanta Lawn Care information this way." There are two types of links: straight links and anchor text links.
A straight link looks like https://www.BobsLawnCare.com or BobsLawnCare.com
An anchor text looks like Atlanta lawn care service. An anchor text is html coded like this:
<a href="https://www.BobsLawnCare.com> Atlanta lawn care</a>
An anchor text link further informs the spiders what the website content relates to.
Since the Penguin Update of 4/24/2012, too much "exact match" anchor text links can sink your site like torpedoes. For instance, if your site is www.AtlantaLawnCare.com and you have 25% of your links with the anchor text "Atlanta Lawn Care" you are very likely to get a un-natural link penalty from Google. What you are striving for is partial-match links and latent semantic links.
It used to be (a couple of years or so ago) that a link from a non-relevant website to yours had value, as in a link from a car website to your lawn business website. No longer. This is now a indicator to Google that some 3 way link swapping paid links or other type of "SERP gaming" maybe going on. Relevant links are what matter now. Matt Cutts has talked about the value of links going away in the future and relying more on social signals. But in the video below (Feb. 2014) he admits that links will be a factor for at least a few more years. As in forever…
I mean, lets face it, how many social signals is a landscape company website going to generate? Not many. If someone writes a great piece on the newest smart phone on TechCrunch.com, yeah, they will get lots of "
social buzz
." You won't get lots of buzz because your company started to offer landscape lighting. Sorry, you just won't set the internet on fire with that news, so you need links.
Page Rank and Page Authority


Google used to assign an "authority index" to the sites that it indexes. Generally, the higher the page rank (PR) of the site linking to yours, the more valuable the link. Although I'm sure that Big G uses PR in its algorithm internally, they stopped updating it publicly a few years ago. This does not mean that Google no longer assigns calculated authority to websites. They do, they just don't share it with you.
Do not confuse authority and search engine position because they are not always related (but often are.) I have had many sites with a low DA (domain authority) rank above pages with a higher DA. In 2017 Moz metrics are most often used to gauge page authority.
Google for Business


Before we get into organic page order SEO, whether you have a website or don't yet have a website, you should list your company with Google Places for Business. You can add descriptions, photos, coupons, even video. It's free and it only takes a few minutes. This has now been combined with social buzz.
This is the MOST important part of this article:
How much can you make in Google Business Maps? Millions… watch below
For local businesses, being in the Google 3 Pack business listing is GOLD. It is the BEST place to rank locally in Google in 2017. There are very specific approaches and tactics to get listed in the 3 pack. However, unless you are in a very noncompetitive market, you won't rank in the Business Maps without being at least in the 2nd page, but usually the 1st page. In most markets, 1st page ranking and maps ranking go hand-in-hand.
Ranking in the business listings keeps getting more difficult. When it first rolled out there were 10 spots. That got reduced to 7. Now it is only 3 🙁
The basics to ranking in the Google business results is to have a lot of "citations" pointing to your site that contain the exact same NAP (Name, Address and Phone number) as the information you used on your business Google listing. However, they need to be the right type of citations or at best you are wasting your time. At worst, damaging your site. Of course, advanced tactics lead to better ranking. Wanna be #1 in the Google Business Maps?
Click below: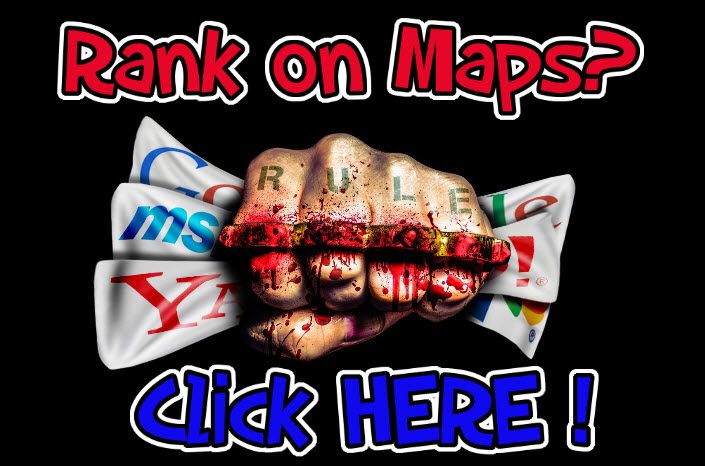 Chapter 2
 Site Rank Strategies
Okay, now that we have the basic SEO theory out of the way, let's get to the individual tactics that we are going to use to get a site ranked higher and faster.
Step #1 Word Press get it here
Install a Word Press blog on your server.
This is very helpful, even more so in 2018. The SE's love WordPress and as it is an open source software, programmers have built loads of applications (called plugins) to improve on the original platform. Basically, you are adding a blog to your website so that you can easily add more content to your site.
The reason a blog is important is that the more often you update your website (by writing a blog post for example) the more often you site gets crawled by the spiders. This is known as the "freshness update." The SE's love new content, so "feed 'em."
Name your blog with a keyword, example: www.BobsLawnCare.com/About-Atlanta-Lawn-Care
Permalinks
Make your social buzz more SEO friendly. Your default link structure in Word Press would be: https://www.BobsLawnCare.com/bout-Atlanta-Lawn-Care/?=P1
An optimized permalink would look like: https://wwwBobsLawnCare.com/About-Atlanta-Lawn-Care/Best-Spring-Flowers or whatever the post name happens to be. Keywords matter! Here is a good video on how to install a Word Press blog on your server:
There are an endless amount of
plugins
that you can install on your Word Press. However different plugins conflict with each other so I'm just going to suggest a few, and they are all free:
Yoast SEO Plugin: Best SEO plugin out there. get it here. There are many configuration options, and it would take pages to explain the technicalities. I've taken the best settings and put them in an up-loadable zip file. Down load it here an install it like this: video link
Comet Cache plugin: This will help your site load faster, get it here
Limit Login Attempts: Helps protect your Word Press from brute force attacks, get it here.
Anti Spam Bee: This plugin will help keep spam comments off of your site get it here.
Start Posting!

Once you have your blog up and optimized, start posting! Two short posts per week (400-500 words) are better than one book length post per month. Consistency, titles and LSI are the key. I have clients tell me all the time, "I can't think of anything to write about" Not a problem. Let Google tell you what to write about.
Go to Google Alerts, type in the subject matter relevant to what you do (lawn care, landscaping, etc), and Google will send you a daily email about what has been written on the subject in the past 24 hours. Open a link, read it, and then re-write it, based on your geographic area.
Search what has been written on your keywords at Ezine Articles . There is more material relating to your subject on the innerwebs, waiting for your unique opinion, than you could ever exhaust in your lifetime. Make sure your title and text are at least 50% different from what you re-write from. If you are unsure whether or not your new post passes the 50% threshold, after posting, compare your post to the original URL that you re-wrote.
With some little steps and 15 minutes twice a week, it becomes very easy. You have no excuse, unless you like having your website buried with a "Here Lies Website X" headstone on page thirty-two. Adding fresh content to your site on a continual basis is absolutely crucial to your success. If you just don't have the time or won't do it for some other reason, this company can do the writing for you for the price of a hamburger.
Claim your blog at get it here. This site will generate a piece of code that you paste in your blog. Once they visit and recognize it, you will be listed (linked.)
Step #2 RSS Submissions
Once you have some content (at least three or four 700+ word posts) on your Word Press blog you will want to submit your blog's RSS feed to FeedBurner to let big G know you came to be a playa'
Step #3 Search Engine Directory

There is another myth that directory submission can get you banned by the SE's. Not true. However, you should be careful when choosing a directory service. The "$9.95 to submit your site to 10,000 directories" would indicate a spam service that could get your website banned! The directories need to be relevant to your content. Meaning, don't submit your landscaping blog to a used car directory. Not only will it not help, it will hurt.
Use relevant keywords in your link title and descriptions. Send verifications to a Gmail account or throw away (hotmail/gmx/fastmail/hushmail/etc) to keep your primary email inbox clean.
Step #4 Social Sites
Social sites are the new website ranking buzzword. This incorporates video, podcasting, and social bookmarking sites like Diigo and Delicious as well as video sites like YouTube.com and Vimeo, and Web 2.0 sites like Weebly, Rebel Mouse and Tumblr. Entire books have been written on how to utilize social sites. We will cover the basics of it here.
On all of these Web 2.0 sites, use them as "buffer sites" that link to your main site with a straight link (https://BobsLawnCare), not anchor text (like Atlanta Lawn Care.) You will then link to your Web 2.0 using anchor text. Another way to describe it; put an 1000 word article about lawn care in Atlanta on your Weebly site and another 800 word article on your Yola site. Somewhere in the middle of the article write (not in parenthesis, this for your clarity only) "Learn more at https://BobsLawnCare.com."
Now on to the elephant in the room….
Step #5 FaceBook Marketing

Of course FaceBook needs its own report and there is too much to go over in this report (no email or FB like necessary, you already did that)
Facebook is the second most visited website in the world. Many FB fan pages also rank well in the SERPS.
Advertising on FB is also much cheaper than Google Adwords (pennies sometimes.) However, as the reasons people are on FB are much different than their reasons for being on Google, and the advertising needs to be different (download the above report.) Needless to say, you should have a good looking Fan Page and encourage your customers to visit (trading coupons for likes, etc. In the above report we show you how to build your page, advertising cheap, build a fan base, all that stuff.)
Step #6 Video Marketing

Now we're talking about a link tactic near and dear to my heart!
In terms of SE ranking, videos kick major butt!
The SE's, especially Google, LOVE video (cuz they love YouTube which they own.)
In fact, if you're dealing with competitors who have done little SEO on their sites, video may be all you need to hit the first page. However, you have to do it correctly. Just posting a video of one of your employees mowing the grass ain't gonna cut it (bad pun.) Once again, like all link building, it's all about titles and choosing the right keywords.
YT Videos Rank Easier + FASTER than Websites
Let's take YouTube for example. When you upload a video, you will be asked for a title, description and tagging information. Your title would be for instance "Miami Lawn Care Reviews". Your description would start with keyword you want a to rank for, followed by a straight link to your site like https://www.BobsLawnCare.com. The rest of the description should include other keywords. Here is one I did just to show it works: https://www.youtube.com/watch?v=PTS3YHNBFR0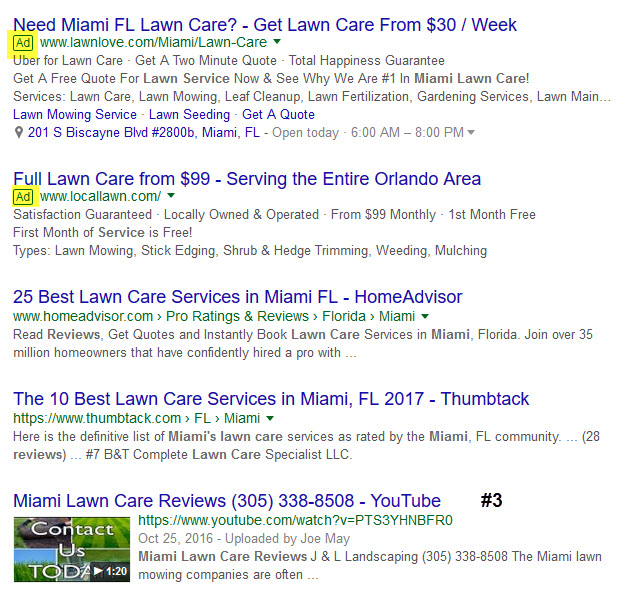 For example: "Need Miami lawn care? At Bob's Lawn Care, our lawn care reviews blah blah!" For the remainder of the description, use other LSI keywords (grounds maintenance, sprinkler repair, etc.) to further your longtail reach in the video search engine. Then you would add your tags in the appropriate space provided. Make sure that you write for humans as well as website spiders. End your video with a "call to action."
Tell the viewer what they should do next. "Contact us at" or" Visit us at" or "For a free XYZ do this." You get the idea.
YouTube has extremely high domain authority which is why, when the right keywords are targeted, they can show up on the first page of Google in minutes!
I don't remember exactly how fast that Miami video ranked, but it was in under an hour.
If you want to learn how to rank on the 1st page in under an hour, go HERE
What about staying power, how long do they last? Some longer than others, but they can last for years. So far, many of mine have. I then put up the same video (slightly edited) on other sites linking back to my YouTube video.
Here is a short list of video sites that have worked well for me:
Of course, there are many more video websites than just these two. Facebook live videos are working well also.
I left out www.YouTube.com because it's a no-brainer that you should post your video on that site, as YT is now the second largest search engine.
I use Camtasia.com screen capture software to record Power Points that I have made and upload those. Here's an example I did for a client. The benefit of Camtasia over some other screen capture software is that you can embed metadata (URL, tagging, etc) into the code of the video. At $300 it's a little pricey, but worth it to me. A cheaper (as in free) alternative to Camtasia is Jing. It is made by Techsmith, the same people that make Camtasia. It will not embed metadata into the video, but the output is MPEG-4. This is the preferred file format for uploading to video sites.
You can also use We Video or Animoto to make your videos like the one below:
If you want to film something besides a slideshow Power Point, you can use your phone or a cheap video camera.
Quick note about video:
Google now calculates the "bounce rate", or how fast a visitor leaves your website after arriving. The target time appears to be "less than one minute, or more than one minute." So how do you keep the visitor on your site for at least one minute? Put a 1:01 minute or longer video on your main website page (or every page) introducing your company! The visitor will watch it, guaranteed. We can't help ourselves, we are a TV culture. I do this for all my full time SEO clients.
Conclusion
Ranking on the 1st page of Google.com, Bing.com + Yahoo.com is how you grow your lawn business fast in 2018 and beyond. If you are SERIOUS about growing your landscaping business…